Latest News
Twenty videos have now been completed by the Project Team and those that were completed recently are being uploaded to the website and You Tube. The videos are also available on DVD from the Yalu Marŋgithinyaraw (email the Project Co-ordinator Rosemary Gundjarranbuy rgundj@gmail.com).
Visit the Yalu Marŋgithinyaraw YouTube channel to view all our videos
Launch of the Sharing the full and true stories about chronic disease
The Sharing the Full and True Stories about Chronic Disease Project (funded by Department of Health and Ageing) was launched at Galiwin'ku on the 28th May. Twenty-six senior staff from CDU and Menzies School of Health Research attended (including the Vice-Chancellor, Deputy Vice-chancellor, Director of Menzies) as well as the local MLA, community elders, School Principal and students, Shire Councillors, representatives of most local organisations including health services and many community members. The launch was held in conjunction with an event to acknowledge the extensive contributions that Yolŋu at Galiwin'ku have made to research over the past twenty years.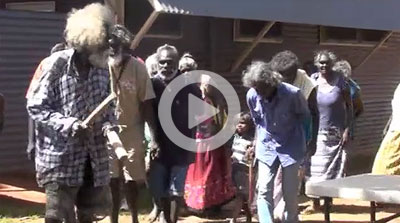 Yalu Marŋgithinyaraw video workshops
July 26, 2012
We have just completed a block of video training, we filmed, edited and produced finished DVD's.
Using this website
We are making videos under various topics. These can be accessed via the tabbed menu above. Clicking on the oval buttons at the top of the page will take you to other sections of the Yalu website